Loch Lomond in January and February
Once Christmas is over and Hogmanay is done, it's a good idea to have something to look forward to. That's why taking a break in January or February is a great idea – especially somewhere beautiful and in warm, comfortable accommodation. Winter in Loch Lomond is a fantastic time of year to visit if you are looking for a peaceful escape, scenic walks and warm, cosy nights tucked up indoors.
Planning a break at Loch Lomond Waterfront at the start of the year means you don't have to wait long to relax with friends and family in a beautiful setting. And there's plenty of things to do around here at this time of year too.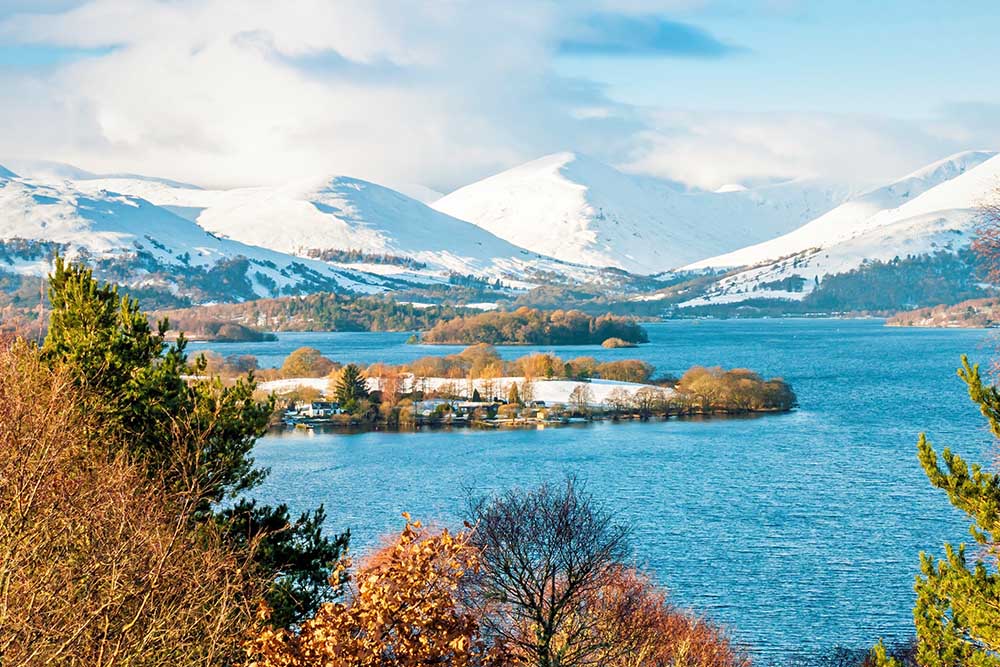 Things to do at Loch Lomond this winter
Whether you are coming on a family break to Loch Lomond or along with friends, there's plenty of activities to keep you busy. 
One of the most exciting things you can do here is take a ride on a sea plane. Operating all year round, Loch Lomond Sea Planes let you see Scotland from above. Winter can be the best time of year to do this, as the air is often clear and the colours vibrant. Choose from flights over the west coast and Isle of Bute, as well as views of Jura, Islay and Gigha.
For something more ground-based, Loch Lomond Shores offer year-round activities. From shopping, food and drink to outdoor activities, this will keep you busy all day! It's a super place to bring the kids when on holiday at Loch Lomond. It has a playpark, mini-golf as well as a Sea Life Centre. If the weather isn't quite what you'd hoped for, come here and it won't matter.
The days are short at this time of year, but the light is just stunning. For anyone keen on photography, this is the time to come for those sunset shots that capture the imagination. The air can also be crisp and clear, giving you views for miles. And if you are looking to see the area covered in snow, January and February in Loch Lomond is a good time to visit.
Of course, we can't guarantee the weather, but if you hit it lucky then the snow-capped hills and mountains are beautiful. Snow on Ben Lomond makes a great photograph. Walking up the mountain when snowy is something we would only recommend to experienced hikers at this time of year, but the view from the top can be breathtaking.
Enjoy the long nights together
The nights may be long, but that only means more time together in the warmth! We have plenty of pubs, bars and restaurants near us at Loch Lomond Waterfront. Most of the nearby villages have at least one pub, and you wil be made welcome there. We've highlighted some of our favourite eateries and pubs here, but don't be afraid to go and find some yourself!
If you find yourself here on the 25th of January, well, that's a very special night. It's Burns night, when we celebrate our most famous poet, Robert Burns. Most places will offer a Burns Supper – which is haggis, neeps and tatties – washed down with a wee dram. And some places might even pipe the haggis in with bagpipes! Have a look at nearby restaurants to see what is on offer and experience this quintessentially Scottish evening.
Spend winter at Loch Lomond Waterfront
Does anyone else think that winter is the best time to enjoy hot tubs? It might be cold outside, but when you're in a warm bath of bubbles with a glass of fizz, it's just heaven. The warm steam, the bright starry skies and the excellent company. Winter in Loch Lomond with us at Loch Lomond Waterfront might just be the best holiday you'll have all year. Check our availability and book your chalet or lodge today.
Get in touch