Self Catering Lodges
Stay in our Loch Lomond luxury lodges with private hot tubs!
If you are looking for that something special then read on! Our five star Loch Lomond luxury lodges are among the best holiday lodges in Scotland. And what is more, they are set right on the banks of Loch Lomond by Balmaha. And if this is not enough, they even have their very own private hot tubs! To see our rates and find availability Click Here.
Sleeping 2- 6 people
Our Balmaha lodges are in the style of holiday cottages and they all sleep 2 to 6 people. Each of our large luxury self-catering holiday lodges enjoys two spacious, en suite bedrooms sleeping two. Further, all offer a double sofa bed in the living room for additional guests. Being family-friendly, cots can be supplied for children 2 years and under. Also, up to two extra beds can also be supplied for children between 2 and 10 years old. All lodges are semi-detached, with two stories and have stunning views over Loch Lomond. Furthermore, they are contemporary in design and furnished to a high standard with hints of Scotland throughout. How to Book as a Group: When booking be sure to Book Online two interconnecting lodges (Drumlanrig & Mellerstain or Crathes & Castle of Mey) or call us to book on 01360 870144.
About our lodges
Important to point out is our lodges are five-star and include Drumlanrig and Mellerstain which are pet-friendly lodges. And both these lodges interconnect should you wish to come along and stay as a larger group. See Our Rates and pick the perfect holiday lodge for you. Then there are Crathes and Castle Mey which can interconnect to make a big family lodge and they sit in an elevated position overlooking the three chalets. Cawdor, Culzean, Lismore and Mount Stewart are all Diamond lodges and you can find out more about these here. Please note, our Culzean Diamond Lodge has a sauna and shower downstairs instead of a steam shower.
Free Wi-Fi
Every one of our Loch Lomond lodges has free, shared access Wi-Fi and access to online streaming services (using your own personal accounts).
And there's more …
All our lodges come with bed linen and towels. And to indulge you some more, we supply shower and hair gel and some locally made hand soap. As well as this, all kitchen cleaning detergents/dishwasher tablets, laundry liquid and softener, tea, coffee, sugar and milk and a packet of Chrystal's shortbread are also on hand as well as 2 toilet rolls per bathroom. So you need not have to think about these when packing!
Do you want a hot tub?
You can even have your very own hot tub! Hot tubs are included in the price for all of our lodges and Chalets. Here, you can sit back with a glass of champagne in hand and indulge in the views over Loch Lomond. Pick your dates Here.
Having a BBQ?
What better way to spend a sunny afternoon at our lodges, than with a tasty BBQ at our Loch Lomond luxury lodges! Each lodge has it's own BBQ trolley and tongs with large family size disposable BBQs available to buy from reception. To see our holiday rates and find availability Click Here.
Our lodges offer dog and pet-friendly accommodation too!
Why not bring your beloved furry friend along? We can offer you dog and pet-friendly accommodation here on the banks of Loch Lomond. Our Drumlanrig and Mellerstain five-star lodges and Lismore and Mount Stewart Diamond lodges allow pets. It is the ideal place for your pet with plenty of outdoor space and ample walks to choose from.
Plenty to see and do
As well as all above there is much to see and do around the surrounding areas of Loch Lomond. As a result of being by the Lochside, you can partake in a variety of water sports. In addition to this, there is ample countryside to explore as well as historical sites. If you want to know more you can explore our things to do section.
Book our Loch Lomond luxury lodges
So why not get in touch today and book one of our Loch Lomond luxury lodges? If you want to book online you can click the button below or you can call us on +44 (0)1360 870 144. Alternatively, you can contact us with any query or request via our online contact form here. If you are swithering, then why not take a look at our Loch Lomond holiday deals in our offers section? And if you'd like to book now and pay in monthly installments, check out our holiday payment plan. We look forward to welcoming you!
Our Lodges
The Lodges we have on offer for you to enjoy all have hot tubs and private terraces. When booking please select the lodge you want to book:
Drumlanrig (pets allowed – charges apply)
Mellerstain (pets allowed – charges apply)
Crathes (no pets)
Castle of Mey (no pets)
Diamond Lodges
Cawdor (no pets)
Culzean (no pets)
Lismore (pets allowed – charges apply)
Mount Stewart (pets allowed – charges apply)
Book now
Features
Extras
Payment Plan
Standard Features
Below is a list of the Standard Features that each of our stunning lodges and chalets includes. We are pet-friendly and pets are allowed in certain lodges. To see our rates and find availability Click Here.
Features...
Private hot tub
Two ensuite bedrooms
Additional third shower room with steam cabinet or sauna
Separate utility area
Open plan living
Living room seating for 6+
Private allocated parking
Robes & Slippers
Appliances...
Master bedrooms all have TVs
Hairdryers
Alarm clock radios
Large fridge freezer
Dishwasher
Grill and oven
Microwave
4 ring hob
Washing machine/dryer
42″ TV and DVD player
Equipment...
Double sofa bed
Complimentary high chairs and travel cots available
Complimentary starter tea, coffee and shortbread
Cleaning products and equipment
Linen and towels
Bathrobes and slippers
Premium Wifi
Layout & Plans
The single chalet and lodge plans are spacious and afford easy access. Especially convenient for visitors with limited mobility. The double storey lodges are semi-detached and provide spacious luxury accommodation for up to 6 people. Upstairs bedrooms have their own en-suite. There are an additional toilet and a hydrotherapy steam-shower downstairs, for your comfort and convenience. Please note these plans are indicative only- there may be slight variations in your lodge. To see our rates and find availability Click Here.
Our Site Map
Click image to enlarge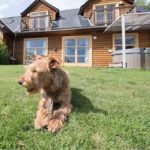 Pet Friendly...
Bring your beloved furry friend on holiday with you. Selected pet friendly lodges available.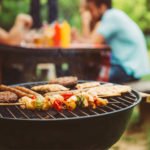 BBQ...
Large family size BBQs are available to buy from reception. Each lodge comes equipped with a BBQ trolley and tongs.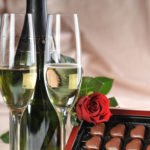 Chocolate, flowers & champagne...
Add chocolate and flowers for £60 and champagne for £40. Order in advance.
Looking to spread the costs?
Are you looking to spread the cost of your holiday? If so then you may be interested in our flexible 'Holiday Payment Plan'. Here, you can pay a deposit of £100 upon booking. Then you can pay monthly instalments to pay off the rest of the balance up to 56 days before your holiday. We want to make things as stress-free as possible for you. So if you want to book one of our luxury lodges and want to spread the costs, this is ideal for you.
How to set my payment plan up…
As said, we will take an initial £100 deposit, then monthly instalments. When booking online all you need to do is enter HOLIDAY PAYMENT PLAN into the comments box. We will then contact you to set up the rest. Alternatively, you can call us on +44 (0)1360 870 144 and set this up over the phone. To find out more, see our 'Holiday Payment Plan' page below…
Read more
Book Online

Loading...

Testimonials

Stunning from top to bottom

'We booked this to relax after a family tragedy and it was the perfect tonic. Stunning from top to bottom. The rooms were perfect with all the facilities needed. The hot tub on a winters evening took it to another level. The blackout curtains, allied to no light pollution outside, meant wakening up was the most natural I had experienced for years.'

Outstanding

'Chef in a lodge was outstanding. The food was excellent as was the service. Superb evening.'

Our own private beach

'Just walking along the West Highland way path past some of the crowded beaches made us realise the value of having your own private waterfront onto the loch. I can still picture walking down to the lochside on our first evening and watching an osprey dive for a fish!'

The Lodges are amazing

'I would like to say that we all had an amazing time staying your lodges at the weekend. The Lodges are amazing. Beautifully presented and everything you need within. Stunning location. Muy birthday/retirement celebrations were made all the more special at this wonderful location with my friends around me.'

Everything was more than perfect

'Everything was more than perfect, more than what we can ask for. And the view priceless, the whole stay was priceless, so thank you ever so much, hope to see you soon.'